It's no surprise that it is a lot of work running a nonprofit on a daily basis.
What is often forgotten about organizations serving communities in other countries, however, is that there is so much additional work required abroad which can't be accomplished from the US. Because of this, we have relied heavily on our director and mentors in Uganda to get the job done. These remarkable people have volunteered their time and affection to our girls even though they all have full-time jobs which keep them incredibly busy already. And in my opinion, though Taproot and these girls are a labor of love for them, the amount of time they commit to this labor of love causes them to be decidedly over-worked.
As Taproot has grown to include an amazing 25 girls, our administrative needs in Uganda have increasingly grown as well. Earlier this year after acknowledging our need for a change, we were blessed with a one-time gift to cover the annual salary and expenses of a social worker. And we were fortunate enough to find Nelly!!
Nelly has been a lifeline for many of the girls in our program. She is responsible for seeing that all nuts and bolts of our organization are accomplished such as seeing that all the school fees and expenses get paid every term for every girl, scheduling periodic meetings with caregivers and guardians to see where we can support them, and forming relationships with the teachers and administrators of the school our girls attend so we can be sure that we are well-informed of their progress and success. She also organizes regular meetings with our girls to foster friendships and encouragement between the girls and to discuss together individual obstacles and roadblocks with their educations.
Equally as important, Nelly serves as an inspiring model of a successful, educated woman. One who desires to walk alongside these girls as she loves on them and cheers them on toward achieving their goals. She is a confidant for intimate matters and even sometimes is required to step in as a surrogate parent. I received an email from Nelly explaining that she was honored to attend a mandatory meeting for parents and guardians on behalf of one of our most vulnerable girls who doesn't have anyone to represent her. Nelly is passionate about these girls and does a fantastic job of connecting with them and supporting them in countless ways.
Here is a little from Nelly's own words:
My name is Arikuru Nelly Bajole. I am a mother of three children. I worked for Voice of Life FM as a radio presenter for three years, and I also worked for Orphans Refugee and Aid as a social worker for again three years. I have experience of working with children and young adults. I am now working with Taproot Charities as a social worker and a mother to the girls. My hope for the sponsored girls is to see that they excel in education and later acquire skills which they can use to be independent and have the ability to support themselves. I will be doing my best to follow-up their education progress and nurture them into God-fearing girls and ladies who will be hard working and competent citizens of their communities and country.
Thank you
Nelly.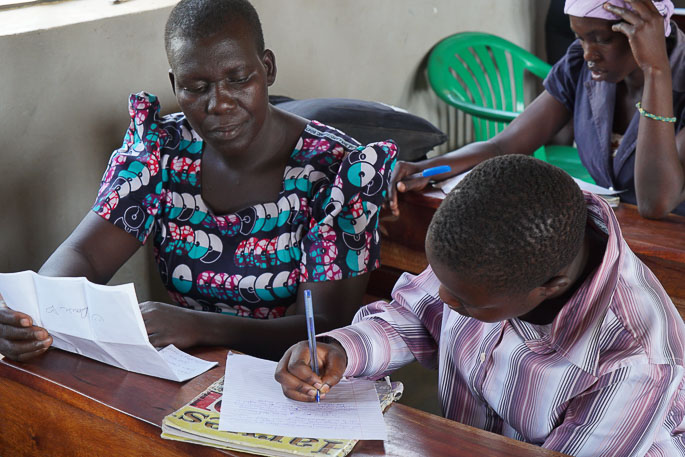 Welcome to our family, Nelly! We are so very glad to have you!
Sara Messer, Founder